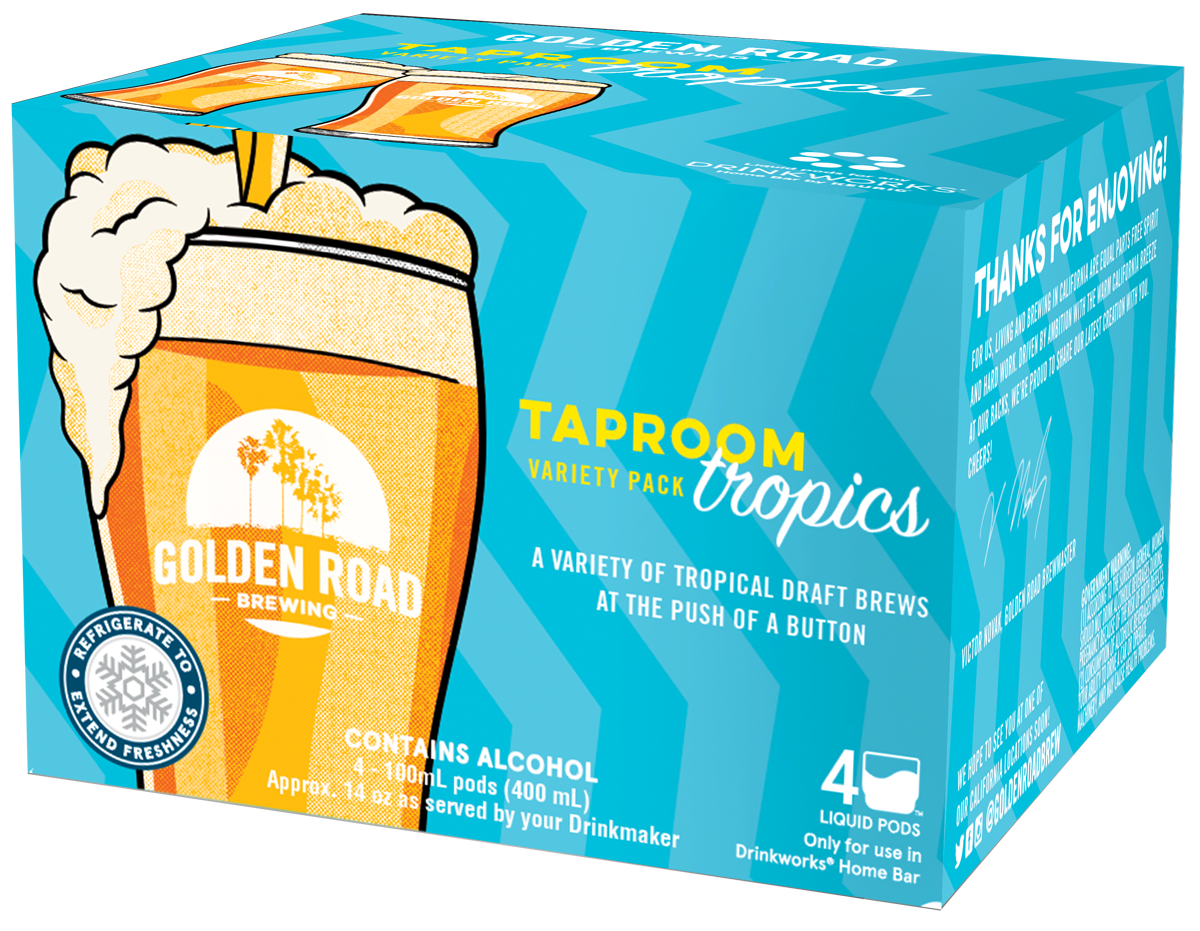 Four Fantastic Flavors
Exclusive to Drinkworks
Thanks to our partnership with Golden Road Brewing, you can enjoy the California vibe—mountains, beach or relaxing with friends—at the push of a button.
Each brew is created by Golden Road brewmaster, Victor Novak, using traditional brewing techniques at Golden Road's Los Angeles brewery.
Exclusive to California
Limited Local Availability
---
Drinkworks is thrilled to be launching its first beer pilot in partnership with Golden Road, offering consumers in California the opportunity to purchase an exclusive variety brew pack on the Drinkworks site as well as select brick & mortar retailers.
Our pilot program is starting small. We want to provide you with remarkable drinks you already know and love all wrapped in our innovative Drinkworks pod. With your feedback we are looking to expand our offering of even more specialty drinks across the US, each with their own unique local flavor.
Perfecting Your Pour
There are a few small differences between using brew Pods and other Drinkworks Pods. Watch the above video and follow the below tips to master your pour in no time. Brew Pods require Drinkworks Home Bar software of 2.3 or later. See the Drinkworks app for updates.
About Golden Road Brewing
Inspired by all things California
In 2011, beer enthusiast Meg Gill co-founded Golden Road Brewing to bring delicious craft beer to the Los Angeles area with the California lifestyle at the forefront. Beginning with its headquarters in the Atwater Village neighborhood of Los Angeles, Golden Road has since become the city's largest craft brewer with a state-of-the-art brewery and tasting room in Anaheim, with a Pub in Grand Central Market (DTLA) and a beer garden in Sacramento.
Originally brewing on a 15 bbl brewhouse, Golden Road was founded to bring fresh craft beer to the LA market. Within a year we were able to expand our barrelage by installing a 50bbl Braukon brewhouse. With capabilities to brew on a larger scale, we were excited at the opportunity to partner with Anheuser-Busch at the end of 2015 to launch national distribution. We continue to channel the innovative spirit of Los Angeles to bring our beers to you! In 2016 Golden Road Orange County opened directly across from Angel Stadium – this R&D brewery, lead by our Brewmaster, Victor Novak houses a state of the art brewing facility, innovation lab, and in 2017 opened a full-service restaurant and outdoor beer garden. The 15bbl system allows our brewers test batch and work on perfecting nearly 80 different recipes annually. In our efforts for sustainability, working in partnership with Revel Energy and ecoSolargy, Inc we integrated over 760 array module solar panels across the brewpub, producing 75 to 80 percent of the total electricity needed at the Anaheim facility.
A lot happens to a brew Pod before it lands in your hands. In our partnership with Golden Road Brewing, after a high-gravity beer is brewed, its carbonation is removed and it is freeze-concentrated and sealed for freshness in a Drinkworks Pod. When a Pod is inserted into a Drinkmaker, the water and carbonation are added back, resulting in a fresh brew at the push of a button. Throughout its journey, the brew never loses its refreshing California-inspired flavor.


We believe in great beer, which is an extension of our commitment to family, sustainability, good food, and the arts.

Find out more at Goldenroad.la
For us, living and brewing in California are equal parts free spirit and hard work. Driven by ambition with the warm California breeze at our backs, we're proud to share our latest creation with you. Cheers!

Victor Novak, Golden Road Brewmaster
96%
"Very Satisfied" and
"Satisfied" Customers!
When asked "Overall, how happy are you with your Home Bar?"
See our testimonials
4.6/5
221 Customer Satisfaction Reviews
Our Top Shelf Service Team is ready to help answer any questions about your new Drinkworks Homebar..
Contact the Top Shelf Service Team